Research Projects
Atomistic electrochemistry
Electrochemical processes are central to a wide range of device operations including electronics and energy converters. Electron transfer can be describe from first principle calculations however such methods are limited to small size, model systems. In order to bridge the gap between ab initio electrochemistry and nanoscale devices, we developed the electrochemical dynamics with implict degrees of freedom (EchemDID). EChemDID is based on reactive molecular dynamics and describes the diffusion and equilibration of voltage in metallic electrodes. We used EChemDID to model electrochemical metallization cells (ECM); an emerging type of non-volatile memory device. ECM cells are composed of a solid electrolyte sandwiched between two metallic electrodes and can switch between low and high resistance state under the application of a voltage. Based on EChemDID simulations we proposed an atomic picture of the operation of ECM cells, as summarized in Figure 1. Current research includes an extension of EChemDID to describe complex electrodes as well as a better treatment of partial atomic charges.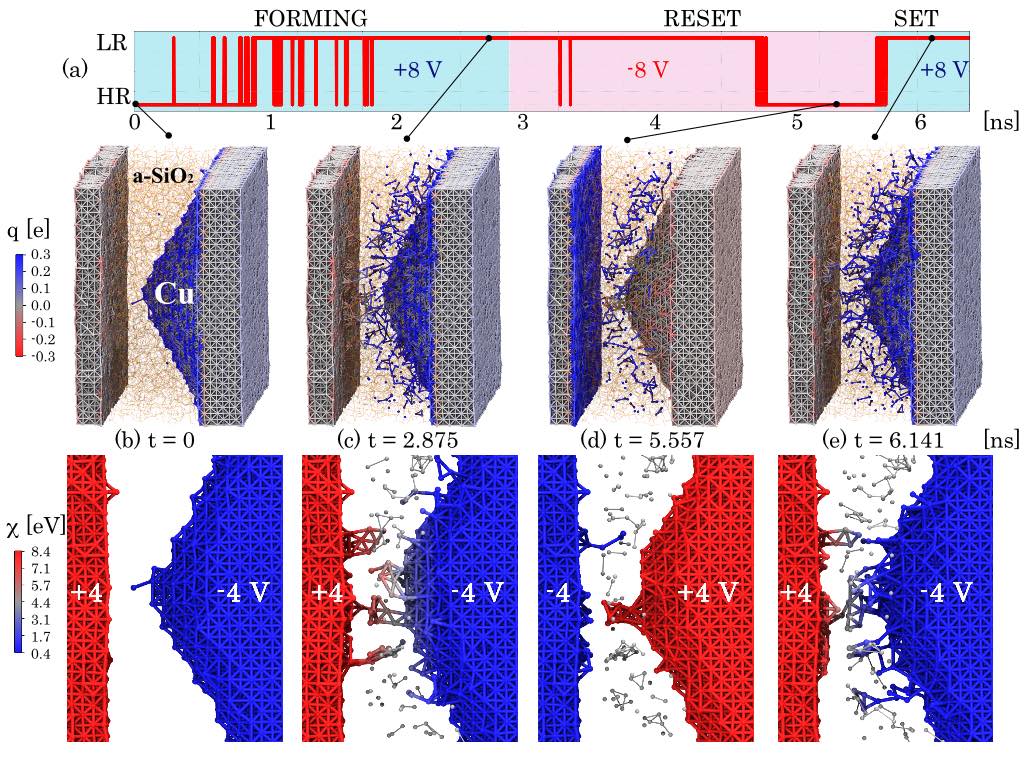 2D materials
The integration of 2D materials into emerging electronics is foreseen as one of the best solution to reach the sub-10nm scale. The high mobility of graphene ribbons, black phosphorus or transition metal dichalcogenides (TMDs) has enable the fabrication of ultrathin transistors with exciting transparent and flexible properties. However, there is a need to understand better 2D materials and their interaction with other materials in order to enable commercial applications.
Doping 2D materials has appeared as a promising avenue to control their electronic properties and to improve their integration with metal contacts. We studied the interface between various TMDs and copper, the intercallation of metals in the vdW gap of MoS2 and recently, substitutional doping in Mo and W dichalcagenides with the entire periodic table. Our simulations indicate that group III and IV elements should be further explored experimentally to substitute chalcogen atoms and various early TMs are promising to replace Mo/W leading to p-type conduction. Figure 2 shows the electronic structure of all doped TMDs as a band plot.

Chalcogenide glasses
Emerging device operations such as nanoscale resistance switch, for non-volatile memory application, has the potential to contribute to the extension of Moore law's beyond the rapidly approaching end of scaling. These devices can reversibly switch from low- to high-resistance state under the application of voltage. A wide range of resistance switching devices exist with a variety of characteristics including linear to non-linear bipolar and non-polar resistance switching as well as threshold switching. Surprisingly, the general structure of resistance switching cells is simple and consists of a solid electrolyte sandwiched between two metallic electrodes. However, the mechanisms that govern the operation of such devices are not fully understood and there is no unified theory to explain the subtitles features that distinguished among their wide I-V characteristics. A major challenges in order to improve the switching characteristics is to find the optimal composition of the ternary alloy made of metal, chalcogen and group IV element. Our goal is to understand how the composition of the ternary Ge/S/Cu affects its bulk properties and to search for ideal compositions for resistance switching by coupling first principle calculations with EChemDID dynamics.
Reactive force field
The development of new parameters for reactive molecular dynamics is critical to integrate emerging materials and enable multi millions atom simulations. Our approach based on Monte Carlo optimization has been used to derive a first of its kind ReaxFF for molybdenum ditelluride and its interaction with Cu via intercalation and interface. Such force field represents an important step toward the decsription of chemical vapor growth of 2D materials. Our current effort in the development of new reactive interatomic potential focuses on materials of interest in the group including 2D materials (such as phosphorene, Xenes, etc.) and, chalcogenide glasses. Our goal is to describe these materials at the device level and therefore to develop parameters consistent with that of metals for application to electronics and alkali metal for energy conversion.
Onofrio, Nicolas and Guzman, David and Strachan, Alejandro. The dynamics of copper intercalated molybdenum ditelluride. JOURNAL OF CHEMICAL PHYSICS, 145, 2016 10.1063/1.4967808